HISTORY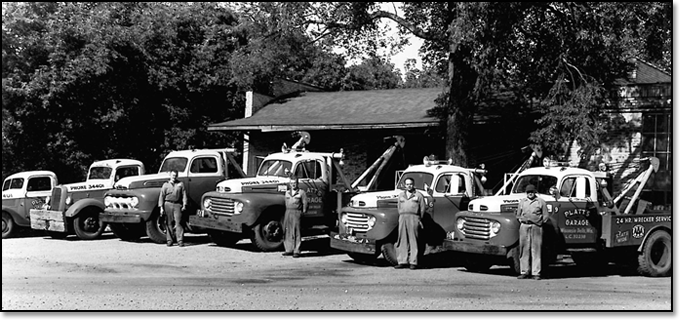 The towing business is more than hooking up cars and dragging them away. For many it's about being of service to the community. This profession is anchored in values, family and community. The title of tower is sometimes handed down from generation to generation.

In the case of Platt's Garage in Wisconsin Dells, Wis., that's at least three generations with the fourth, five-year-old Martin IV, learning the business behind the wheel of his tiny truck in the playground.

Martin Platt Sr. founded the business in 1919 in downtown Wisconsin Dells. They initially started in auto repair, but quickly added a towing service to the operation. As they came of age, the Platt sons—Marvin, Duane and Martin Jr.—joined the family business. The fleet grew to two F-6 Fords, two F-8 Fords and a 1937 Ford, all homemade wreckers built in the Platt garage.

Martin Platt Sr. passed away in 1965 and Martin Jr. in 2002. Today, his two sons Mark and Martin III own and operate Platt's Garage, still adhering to those values put in place by their grandfather. This 1995 379 Peterbilt is a rolling memorial to the legacy of the Platt family. With classic Holmes 750 wrecker, this beast is a true workhorse in the Platt's 10-truck fleet.

"We wanted to build an everyday driver to replace our old 1972 IHC with Holmes 750," Marty Platt said about this truck's history. "So we bought a 1995 Peterbilt 379. We had Dave's welding out of Wisconsin Dells stretch the frame and build us a custom toolbox. We then added a Zack Z303 underreach and stiff legs. This was our 57th vehicle."

All the painting was done in house at Platt's Garage. The vinyl lettering and pin striping was done by Koehler signs of Wisconsin Dells; Baraboo Tent and Awning did the vinyl pictures.

With Martin IV waiting in the wings, it's a safe bet the Dells will have Platt's Garage around to meet their towing needs for many years to come.
24-Hour Towing & Roadside Assistance:

608-253-1881


Email:

info@callplatts.com
1003 Washington Ave., Wisconsin Dells, WI 53965
Monday-Friday 8:00am-5:00pm, Saturday 9:00-1:00